Thank you to everyone who entered our last challenge 'Black and White plus one other colour', I think this challenge was a little difficult to understand for quite a few but the standard of your designs was amazing.
I have used the Random Generator again to make things fair for levels of experience.
The winner of the 5 digi images from Fairy Dust Crafts is #28
Hannelie
The winner of my guest spot is #42
Shruti
CONGRATULATIONS....please contact me, Susan, details in the sidebar and I will arrange your prize and guest spot details.
Please remember to contact me before the end of this challenge for your prizes, we cannot contact you individually due to time constraints and it would be a shame not to collect your prizes.

I have some sad news today, NanaConnie one of my very talented Design Team has decided to step down due to work commitments. I have loved everyone of NanaConnies creations that she designed for the blog and I am going to miss her, but I would like to wish her all the very fondest of wishes for a bright and shiny future in her new job. Don't forget us and come back to visit often!


Our sponsor for this challenge is Cropstop.com
We are very lucky to a this special sponsor, and we are sure you will be impressed by what they have to offer at their store, we are!
The winner of this challenge will receive a $15.00 gift certificate.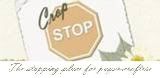 If you're passionate about paper-crafting whether it be scrapbooking your memories, making cards or altered art, CropStop is your one-stop solution. We offer an extensive selection of dies, embossing folders, inks, stamps and punches by all the popular manufacturers and the CropStop die and embossing folder storage solutions Pocketz Pages™ to keep everything organized. Our selection of embellishments and adhesives is continually expanding and we are excited to be the home of the colorful Ribbon Candy™.
CropStop ships internationally as well as domestic. Our personalized customer service is only one of our strengths. Call or come visit us at
www.CropStop.com
and see what's new in the world of paper-crafting.
Now let's get onto our new challenge...
Here in England Fathers Day is coming soon this month so we have decided that the men/boys in our lives must be celebrated, not just for Fathers day but also for birthdays or for anything special that needs them to be shown how we feel about them. So for this challenge we are going to be thinking about the men in our lives, whether they are our Father, brother, son, boyfriend, husband or just a friend, our theme this time is.....
'For the man/boy in our lives'
You can make whatever you want for this challenge, card, tag, bookmark, 3D item, scrapbook page you decide.....as long as it has a male theme that will be acceptable. It can be for any occasion you want it to be for.
If you need any help with inspiration for this challenge then look no further....below my design team have outdone themselves again and have produced some fabulous work, check them out at their individual blogs and leave them some love while you're there, we all love having comments left about our work.
Jo
: Using Footie Ali
Julie

: Using Golfer Max
Susan
:
Using Footie Ali
Tracy Mo

: Using Dino
"A few things to remember"
Please link your creation to the Inlinkz below and not your blog, no backlinking to older posts, we want to see your new creations.
Please feel free to join in any other challenges with your entry, but most of all '
Have Fun
'.
Don't have a blog....don't worry, email me, Susan, contact details in the sidebar, with a photo of your creation and I will add it to the challenge.
Best of luck..happy crafting
Love Susan and my talented design team.
xxx