Hi Susan here....
A BIG thank you to everyone who entered our last challenge - Happy Birthday', the quality of design and work was outstanding.
I have entered all into the Random Generator and below are the winners....
The winner of the £10 gift certificate from Joanna Sheen is #91

Allisa
The winner of my guest spot here at LC's is #126

Catherine
CONGRATULATIONS, please contact me, Susan, details in the sidebar and I will arrange your prize and guest spot.
Please note....You will have until the end of the current challenge to contact me for your prize, due to time constraints we cannot contact you....it would be a shame to miss out on your prize!
Our fabulous sponsor for this challenge is the marvellous Cropstop.com who will be offering a $15.00 gift certificate to spend in their store.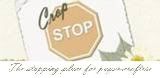 If you're passionate about paper-crafting whether it be scrapbooking your memories, making cards or altered art, Cropstop is your one-stop solution. We offer an extensive selection of dies, embossing folders, inks, stamps and punches by all the popular manufacturers and the Cropstop die and embossing folder storage solutions Pocketz Pages* to keep everything organized. Our selection of embellishments and adhesives is continually expanding and we are excited to be the hold of the colorful Ribbon Candy*.
Cropstop ships internationally as well as domestic. Our personalized customer service is only one of our strengths. Call or come visit us at www.Cropstop.com and see what's new in the world of paper-crafting.
Right let us get on with our new challenge.....due to the time of the year and everyone is thinking about sun, sea, sand and holidays we have decided the theme for this challenge should reflect that, so......
'At the Beach'
We want to see on your creations anything to do with the beach, we would like you to reflect the sun, sea and sand infact anything to do with holidays at the beach!!
You can produce tags, cards, bookmarks, 3D items, scrapbook pages anything as long as the beach theme is followed throughout your design.
Do you need inspiration for this challenge, then look no further....my fabulous design team have again out-done themselves and produced some amazing creations for you. Call across to their individual blogs and read how they made their creations and don't forget to leave them some love.
and Happy Birthday Sentiment
Helen

:

Using Splashing Funtime Ollie Duck
Sandra
:
Using Melody Mermaid
"A few things to remember"
Please link your designs to the Inlinkz below, also NO backlinking to older posts, we love you see your new designs.
Please feel free to join in any other challenges with your design, best of all have fun!
Don't have a blog...no problems....email me, Susan, contact details in the sidebar, I will then add your creation to the challenge.
Happy crafting and good luck
Susan and my fabulous design team
xxx